The Kingdom of God Discipleship Program is a journey of discovery, providing the opportunity to come into a greater knowledge of God and His kingdom. As a result, participants are empowered to live in His truth, experience His love and be transformed in His power. 
DISCIPLES MAKING DISCIPLES
God does everything out of unconditional love. Therefore He gives every disciple a part in His healing mission. Those who complete the program are equipped to make disciples. Using their completed workbook they are empowered to lead others into a greater revelation of God. Consequently disciples are making disciples.
The Kingdom of God Discipleship Program is ideal for both youth and adults. The 16 sessions include song, scripture discovery, discussion, practicals and everyday applications. The Kingdom of God Discipleship Program uses powerful illustrations that both the educated and uneducated are able to understand.
Both the participant's workbook and leader's manual are available in 9 languages. They are free to download, copy, print and share.
THE KINGDOM OF GOD DISCIPLESHIP PROGRAM INFIELD EXPERIENCE
The Kingdom of God Disicpleship Program (Odia) is now available through jesus loves : the world – tv channel. This professionally recorded infield experience is produced by the indigenous people of the land. It is also available on solar powered audio players for infield listening. Please contact Nishant +91 9937154448 to purchase these solar powered audio players loaded with the free Kingdom of God Discipleship Program (Odia).
To read some of the heartfelt testimonies of lives that have been transformed for all eternity follow us on facebook and subscribe to our #ineverystep magazine.
Connect with us, pray for our projects, use our free resources and subscribe to our free podcasts, sermons and videos. Together we share the good news with the world.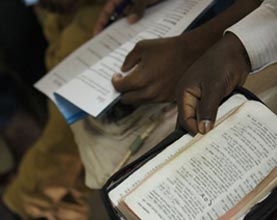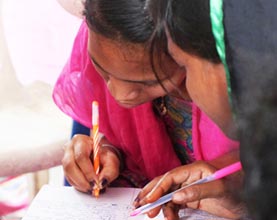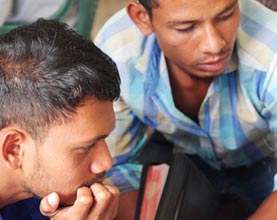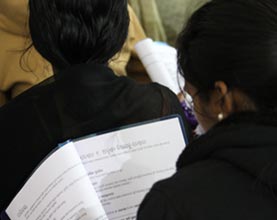 'I decided to end my life thinking I have no one to accept me as I am, but through this program I have come to know there is only one who loves me and He has greater plans for me. I now surrender to God every day living with new hope in Jesus.'
Kingdom of God Discipleship Program Participant